Over the years, construction partnering has been researched to determine the benefits of using a partnering approach on construction projects. Following are the results research into the benefits of Construction Partnering.
Project Partnering:
Results of Study of 280 Construction Projects
Erik Larson
Journal of Management in Engineering
March April, 1995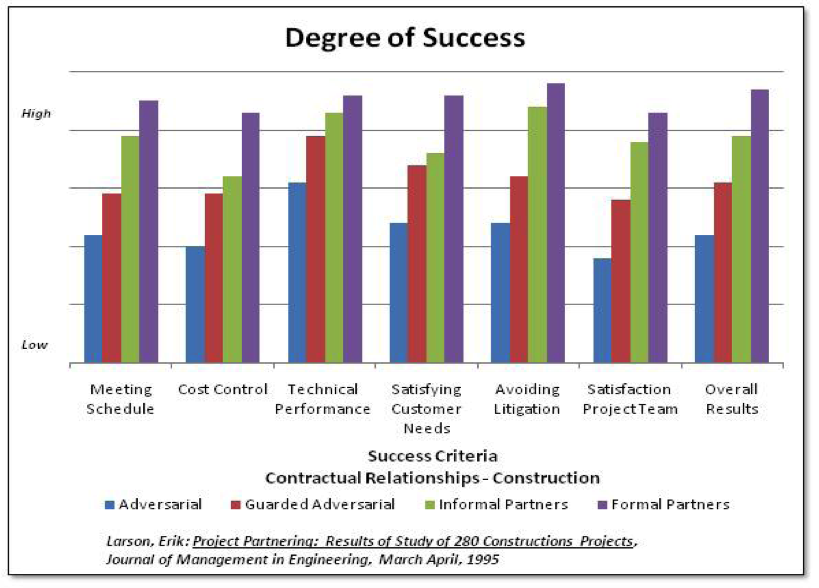 Erik Larsen, Professor of Project Management at Oregon State University, conducted a 1994 study on the effects of Construction Partnering on 280 construction projects (see above). The study compared the effectiveness of controlling costs, schedule, technical performance, customer satisfaction, avoiding litigation, and project team satisfaction rates under four different approaches to managing the owner-contractor relationship: adversarial, guarded adversarial, informal partnering, and formal partnering.
The results showed formal partnering on projects produced superior results to all of the other approaches in every researched category. In addition, the relationship between partnering and project success was not affected by whether the contract was awarded on a low-bid or non-low-bid (i.e. negotiated) basis.
Construction Industry Institute
The Construction Industry Institute (University of Texas at Austin) researched nearly 300 projects that were completed using the partnering approach and found significant benefits:
TOTAL PROJECT COSTS were reduced by 10%
PROFITABILITY increased by 25%
Overall PROJECT COMPLETION TIME was reduced by 20%
SCHEDULE CHANGES were reduced by 48%
The number of CLAIMS were reduced by 83%
Lost-time ACCIDENTS were 1/83rd of industry standard
CHANGE ORDERS were reduced by 80%
JOB SATISFACTION increased by 30%
International Partnering Institute
The International Partnering Institute (IPI) held its 4th Annual IPI Awards Ceremony on May 16, 2013 in San Francisco California. The winning projects ranged from a $1.725 billion Utah Department of Transportation highway project on Route I-15 – which came in $260 million under budget and two years ahead of schedule – to a $3.8 million fire station project – required to remain fully operational during construction – in Laholm, Sweden.
The 2013 IPI Award recipients:
Saved $343 Million (11.7% average savings)
85% of their projects were completed on time or early
65% of the jobs were completed without a Time Loss Incident
There were 2004 Change Orders – but Zero Claims
Using figures submitted with the projects: $1 spent on Partnering: $93 Savings
What do participants of Allan Lowe Construction Partnering & Project Scorecards™ say?
Partnering Session Participant Evaluation Surveys of more than 1,800 participants from Allan Lowe Construction Partnering & Project Scorecards™ partnering sessions identify the benefits of these partnering sessions.
Partnering Session Evaluation Statement
Session
Rating %
Session
Rating Avg
The project will benefit from this partnering session...
93%
4.65 / 5
My organization will benefit from this partnering session...
90%
4.50 / 5
I benefited from this partnering session...
91%
4.55 / 5
The Construction Partnering facilitator was...
94%
4.70 / 5
What types of projects can benefit from Construction Partnering?
Almost any construction project can benefit from using the partnering process. However, the benefits of formally partnering a construction project increase with the project's increased risk. The risk can be evaluated in terms of design and construction complexity, the numbers of major stakeholders involved, budget constraints, and many other factors.

"I don't like that man.
I must get to know him better." ~Abraham Lincoln